Quality & Service Since 1989
No Dinx has offered professional, custom design since 1989
With over 30 years of experience in the apparel printing industry, we accept nothing less than perfection. We bring professional designs, countless clothing options, and innovative printing techniques to our clients. All apparel is printed in-house with state-of-the-art technology and handled with utmost care. Our clients are included in every step, ensuring that all ideas and visions are 100% accomplished. We guarantee competitive prices, quick production, and top-quality apparel.
We Always Deliver
Our quick turnaround times ensure your order will be ready on the date set. Deadlines guaranteed.
100% Happy Guaranteed
If you are not completely satisfied with your product, let us know so we can make it right.
Design Team Included
All of our apparel and embroidery services include 4 hours of professional custom design.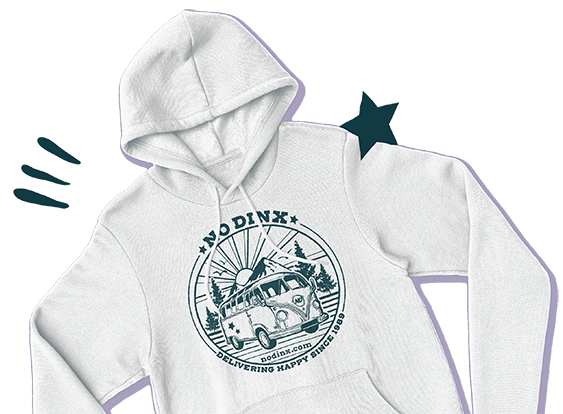 Hooded Sweatshirt
Special Offer!
Get custom screen-printed hoodies for $19.99 each when you order at least 36.
This is a limited-time offer, act now and save big!
Sizes from S-XL. One print location, one color.
LET US HELP YOU BRING YOUR CUSTOM PROJECT TO LIFE!
With over 30 years of experience under our belts, we are your one-stop shop for all your custom design needs.
SCREEN PRINTING
Whether you are looking for a great t-shirt design, team uniforms, or company apparel, we can find a look that fits your brand. We include 4 hours of professional design with all screen printing and embroidery orders!
EMBROIDERY
Our embroidery services include custom digitizing and made-to-last quality. Choose from some of our favorites: hats, polos, jackets, or come up with some ideas of your own.  Give your brand the lasting quality it deserves.
VEHICLE WRAPS
Transform your vehicle into a dynamic advertising powerhouse with a custom vehicle wrap. With the help of our designers, your vehicle will become an unforgettable mobile billboard. Stand out from the crowd with our custom vehicle wrap solutions.
PAPER & PRINTING
Looking to boost your brand's quality across all platforms? Business cards, flyers, posters, you name it and we'll take care of the details. All you need to do now is choose which one of our products comes next.
SIGNS & BANNERS
Let us make your brand stand out with our selection of banners and signage. Made with all occasions in mind, we have products ranging in size, type, and price to fit your needs.
BRANDING & DESIGN
We'll create a logo your clients will love to trust. Simple or extravagant, our designers will find something that speaks to the quality of your brand. We bring design that is professional and cohesive.
Client Reviews 
Gene Johnston
No project to small (community service), No project to large (their lane), No Dinx does it all. I Believe their mission is to send all customer out the door, departing fully satisfied that you & your project matter to them. To me it's like a pleasant experience.
James Panichello
I'll never go anywhere else. They definitely raise the bar for graphic design and production. I thought I was imagining impossible designs but they were able to pick my brain and get it on paper.
Ryan Borde
The crew at No Dinx knows their stuff. I just started doing business with them within the past year and have been extremely pleased with the work they do. I highly recommend them for design work, screen printing and embroidery.
Grandt Samuel Photography
The staff at No Dinx are amazing. They are always so accommodating, go above and beyond when it comes to workable timelines, and frankly puts out some of the best products around. Go see Nathan and his team. You wont regret it.
Jared Thayer
This company is great! We've had a decent amount of print work done in the past through other folks and decided to work with no Dinx on our most recent rebrand. This includes (4) vehicles, apparel, stickers, and branded paper products. The No Dinx's values has created a very service oriented and quality focused experience. Nice folks, who care about your business and will make it right. 5 stars. We will continue using them for all out print needs!
Bonaventure Senior Living
We have been working with No Dinx for several years on many different projects. The staff here are always professional and go above and beyond for us to make sure our communities have what they need, when they need it. Thank you No Dinx for all the work you do for Bonaventure Senior Living.
Carol Gilbert
I recently did a huge order with No Dinx that included 60 jackets and a big sign. They have really nailed down the whole process. They will send you proof after proof to make sure that the design is exactly how you want it. We worked with Riley and she was very patient, helpful, and quick to respond. For the big sign we got we gave the designers very little to go off of so we were expecting a really plain, simple sign, but they took what we gave them and really ran with it. So I definitely recommend giving them room to be creative. The turn around time was really fast as well for the amount of work they did for us. I look forward to using these guys more for our company orders!
PNW by No Dinx Original Apparel
Immerse yourself in the natural beauty of the PNW with our original designs, crafted by No Dinx. From cozy sweatshirts to stylish hats, we have the perfect gear to showcase your passion for the PNW.
97🌲🌲🌲 Classic Mesh Hat
$25.00
97🌲🌲🌲 Fleece Hoodie
$40.00
Oregon State Of Mind Short Sleeve Tee
$25.00
97🌲🌲🌲 Midweight Hooded Sweatshirt
$40.00
PNW Oregon Varsity Crew Sweatshirt
$38.00
97🌲🌲🌲 Patch Beanie
$20.00
PNW Sasquatch Hoodie
$45.00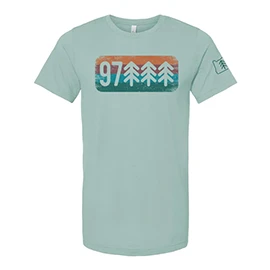 97🌲🌲🌲 Short Sleeved Shirt
$20.00
97🌲🌲🌲 Vintage Dad Hat
$20.00